6/4/23 James just completed the score for the Jean Claude Van Damme Noir Film DARKNESS OF MAN. The score was co-written with composer Tim Jones. DARKNESS OF MAN will be streaming soon. Details to follow!
4/4/23 James is currently writing 3 Etudes for Orchestra. Movement I is complete with the other 2 movements in the works.
2/16/23 TIME TO LIVE featuring vocalist Serena Rutledge is now available on this website. Spotify release to follow. Time to Live is inspired by the James Bond title sequences No Time to Die. The video is now available on this website as well. 
1/11/23 PLAYING THE CREASE now on Spotify! https://open.spotify.com/album/3sEM3jVBJM3GhLDdlPSIgz?si=za_b3KrHRDS3SBbLhsF-Dgsi=za_b3KrHRDS3SBbLhsF-Dg
10/14/22 James is now being represented by Keith Anderson from KCA Music! James looks forward to a new era of advocation and support from Keith now and in the years to come.
9/23/22 PLAYING THE CREASE will be available on AMAZON for purchase or rent starting in October! The film is being promoted by the NHL Network. More details to come soon!
8/26/22 KAMMERMUZIK #1 is now available for play in the MUSIC section. In honor of the 100th anniversary of Paul Hindemith's Kammermuziken (chamber music) pines that were written in the 1920's, I have started writing Kammermuzik pieces for various chamber ensembles. Kammermuzik #1 is written for: FLUTE, OBOE, CLARINET, BASSOON, HORN, 2 VIOLINS, VIOLA, CELLO, BASS.
6/2/22 PLAYING THE CREASE WINS BEST PICTURE at the New Media Film Festival in Hollywood!
4/28/22 PLAYING THE CREASE won 3 awards at WordlFest Houston International Film Festival! BEST ACTRESS-Kate Barnett. BEST FAMILY FEATURE-Playing the Crease and BEST MUSIC SCORE-James T Sale.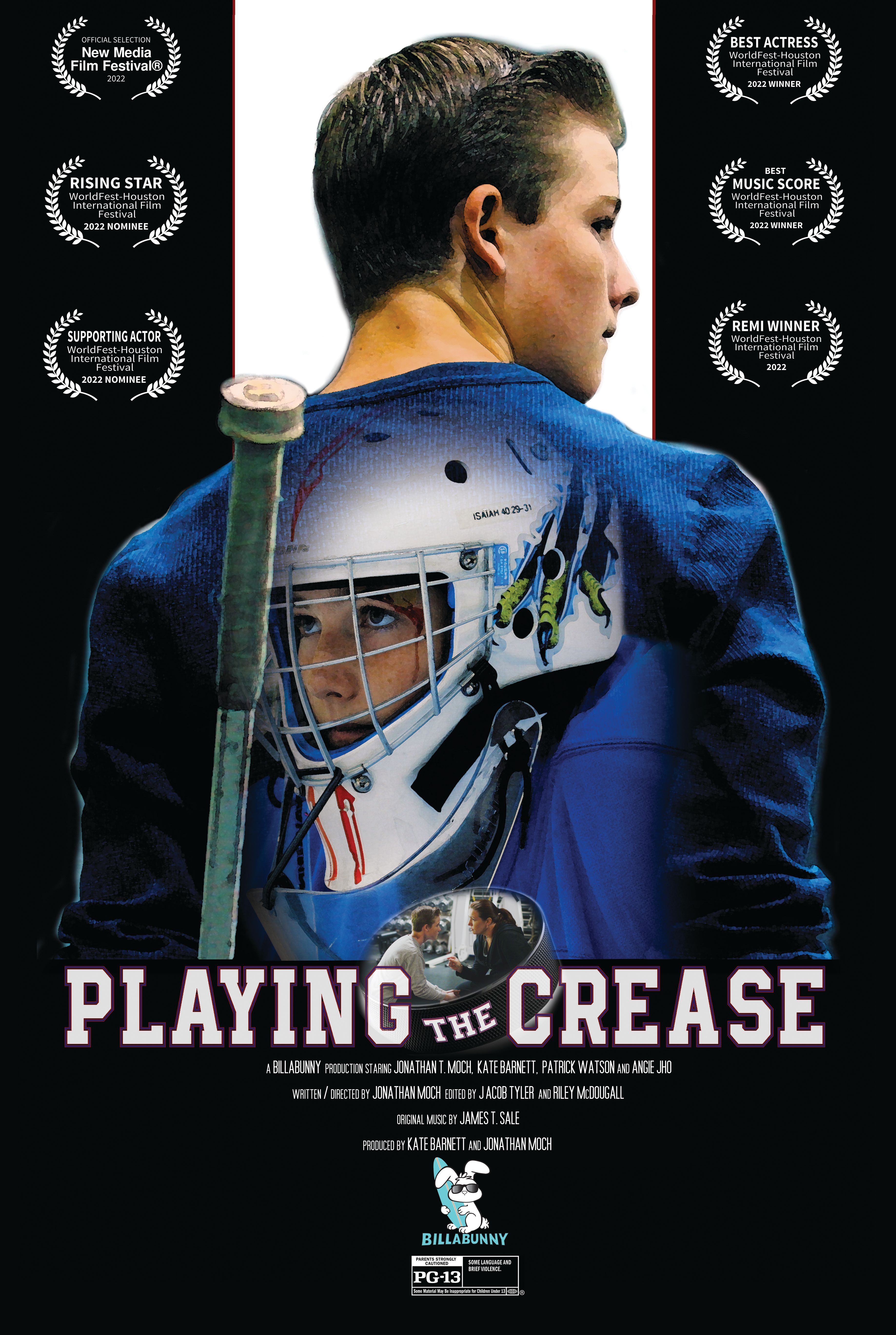 4/23/22 James Wins a GOLD REMI AWARD for BEST MUSIC SCORE for PLAYING THE CREASE!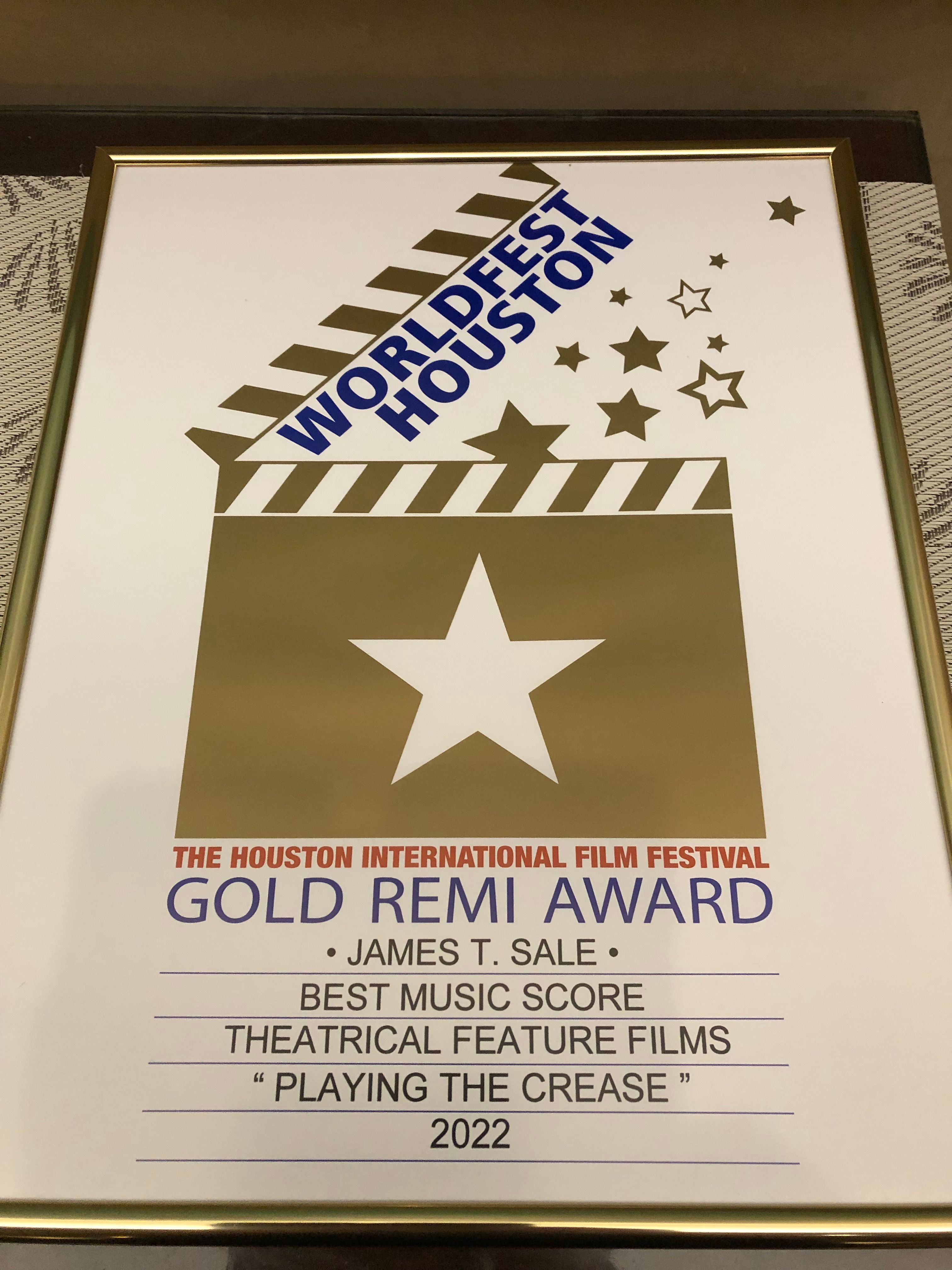 3/14/22 Route 66: THE UNTOLD STORY OF WOMEN ON THE MOTHER ROAD is finally airing on KCET and PBS Socal 2! James wrote original music for this compelling series. /files/1168056/screen-shot-2022-03-14-at-12-22-24-pm.png Click on the link to see the schedule!
2/22 James has completed the score for a documentary about the sport of Ball Hockey (which James still plays) called FLOATING BLUE. Details about its release will come at a later date.
2/22 James conducted 2 episodes of CARNIVAL ROW for composer Nathan Barr.
8/18/21 James wins BEST SCORE for WHEN A HONEY BEE STINGS in the Paris International Short Film Festival!
7/14/21 WHEN A HONEY BEE STINGS is playing at the Marina Del Rey Film Festival on Sunday July 18th. Ticket info is here. https://www.marinadelreyfilmfestival.com/tickets
7/1/21 WHEN A HONEY BEE STINGS wins multiple awards including Best Original Score! Directed by Daniel Lomboy and produced by Samantha Drews, this student short has garnered a lot of attention and will hopefully continue to do so. Take a listen to the final cue from When a Honey Bee Stings here. https://soundcloud.com/eyescor/when-a-honey-bee-stings-youre-the-reason
5/3/21 ALBUM OF THE MONTH-JFK: A PRESIDENT BETRAYED. Written in 2013 for Director and producer team Cory Taylor and Darin Nellis, this documentary score covers everything from the Vietnam War to Kennedy's relationship with Kruschev and is own military chiefs. https://soundcloud.com/eyescor/sets/jfk-a-president-betrayed
4/3/21 ALBUM OF THE MONTH-THE FRANKENSTEIN THEORY. Written in 2013 the score features an orchestra of Basses for maximum horror and thriller effect as only 1 music cue has Violins in it. https://soundcloud.com/eyescor/sets/frankenstein-theory
3/4/21 ALBUM OF THE MONTH-CLIMB FOR PEACE. Written in 2007 for Director, Producer, Cinematographer and Climber Billy Marchese this score is one of James' favorites. The documentary about an Isreali and Palestinian climbers teaming up to conquer Everest is a testament to the determination of the human spirit. https://soundcloud.com/eyescor/sets/climb-for-peace
2/2/21 ALBUM OF THE MONTH-JUDY MOODY AND THE NOT BUMMER SUMMER. Composer Richard Gibbs was kind enough to have James co-compose on this fun summer movie from 2011. Here are the tracks written for the film by James. https://soundcloud.com/eyescor/sets/judy-moody-and-the-not-bummer
1/5/21 ALBUM OF THE MONTH-TERMINAL ERROR. A blast from the past, Terminal Error features a film from 2001 about the use of the computer virus through the internet as a weapon. What a a far-fetched idea?available now on SoundCloud. https://soundcloud.com/eyescor/sets/terminal-error
12/14/20 WHEN A HONEYBEE STINGS was scored by James and is now completed. The score was for up and coming filmmaker Daniel Lomboy who's short film is a dramatic look at a dysfunctional family.
12/20 NO ALBUM of the MONTH in December but look for it next month!
11/02/20 ALBUM OF THE MONTH-TAKING 5. Treat yourself to a fun film about high school, boy bands and best friends! Available now on SoundCloud. https://soundcloud.com/eyescor/sets/taking-5
10/1/20 ALBUM OF THE MONTH-ACTS OF VIOLENCE music written for the action thriller with Bruce Willis, Omar Epps and Cole Hauser. Available on SoundCloud now for listening! https://soundcloud.com/eyescor/sets/acts-of-violence
9/1/20 ALBUM OF THE MONTH-SAINT JUDY music written for Sean Hanish's depiction of LA-Based attorney Judy Wood. Available on SoundCloud! https://soundcloud.com/eyescor/sets/saint-judy-original-score
8/31/20 SAINT JUDY #1 in theaters in Australia! Saint Judy opened in theaters in Australia and New Zealand last week and was well-received by moviegoers!
8/20/20 SAINT JUDY Opens in Theaters in Australia and New Zealand today! Take a look at this review of Saint Judy from a publication in Australia!  https://revivemagazine.org.au/2020/04/30/review-saint-judy/
8/5/20 ALBUM OF THE MONTH-ALOHA (unused score) music written for Cameron Crowe's Hawaiian-themed drama Aloha. Available on SoundCLoud! https://soundcloud.com/eyescor/sets/aloha-soundtrack-unused
7/13/20 BIG BREAK get a positive review on the In Their Own League website! And there is a quick mention of the music for the film as well! Take a look here: https://intheirownleague.com/2020/06/25/short-film-review-big-break/
7/2/20 ALBUM OF THE MONTH-CLIMB FOR PEACE. This score was completed in 2007 and was the second Everest-based documentary with DP and Producer Billy Marchese. Climb for Peace is available on Amazon Prime Video. Check out the Album tracks on SoundCloud! https://soundcloud.com/eyescor/sets/climb-for-peace-original
6/29/30 A NEW FEATURE starts next month!  ALBUM OF THE MONTH  will feature a film score by James and will be moved to the top of the Track list located in The Music on the website. It will begin on Wednesday July 1st!
6/20 BIG BREAK continues to win awards and gain acceptance into film festivals with an Official Selection to the Portland Film Festival and winning Best Comedy in the Top Shorts Film Festival, an online festival.
2/28/20 DARK MUSIC for BASS CLARINET and ORCHESTRA is complete! The piece is now being submitted for consideration. 
2/19/20 BIG BREAK wins Best Comedy at the Florence Film Awards in Italy! BIG BREAK has also been selected as an early entry into the Women's Comedy Film Festival in Atlanta! BIG BREAK is a short films cored by James and directed by up and coming filmmaker Dicle Ozcer. 
12/06/19 James Conducts a 9 hour recording session for the upcoming Vin Diesel action film Bloodshot at Warner Bros! 
11/7/19 James recently conducted Nathan Barr's beautiful score for Alan Ball's Indie feature UNCLE FRANK. 
11/6/19 SURVIVING HOME streaming NOW at this location! https://www.pbs.org/show/america-reframed/ 
10/15/19 James will be speaking to film scoring students at USC on October 31st with host composer and faculty member Patrick Kirst! 
9/10/19 MUSIC WITHIN Album on YouTube! The score for 2007's biopic about Richard Pimentel starring Ron Livingston, Michael Sheen, and Melissa George is now available on YouTube! https://www.youtube.com/playlist?list=PLkwPVzDYtEEc78MrMrKQPw1ypKk4lxPzR 
3 ALBUM RELEASE INTERVIEW WITH AIR-EDEL Air-Edel Interview
3 ALBUM RELEASE! RETURN TO ZERO, SISTER CITIES, AND SAINT JUDY Available now on Apple Music, Amazon, and Spotify! http://www.air-edel.co.uk/news/air-edel-records-release-the-james-t-sale-trilogy/ 
6/12/19 SAINT JUDY now available for streaming on these sites.https://geni.us/SaintJudy?fbclid=IwAR0TMUBU1wlR_xCqfP3HgdZ432oxfW_mhILCAShin0wemFb9Vd6yOs6JLf8 
6/12/19 ALBUM RELEASE JULY 5th! All 3 Sean Hanish films-RETURN TO ZERO, SISTER CITIES, and SAINT JUDY will all be released on multiple platforms on Friday July 5th! http://kinetophone.com/news/air-edel-records-release-the-james-t-sale-trilogy/ 
4/15/19 NEW INTERVIEW! James was interviewed by Ruben Franco for the Spanish film scoring website Asturescore. James discusses his earliest memories of film music and talks about his scores for Hotel Transylvania and Saint Judy among others. https://asturscore.com/especiales/saint-judy-james-t-sale-and-the-music-within/ 
4/1/19 NEW PODCAST! Listen to James speak with Mark Hasan of KQEK.com, a film scoring blog, regarding the score for Saint Judy. https://directory.libsyn.com/episode/index/id/9219425 
3/1/19 SAINT JUDY opens today in the US! 
2/28/19 Movie Web Reviews Saint Judy. Read the review here. https://movieweb.com/saint-judy-movie-review/ 
2/22/19 ONE WEEK to SAINT JUDY RELEASE! Saint Judy is due in theaters on March 1st. If you want to see where Saint Judy is playing in your city click on the link! http://www.saintjudymovie.com 
1/23/19 SAINT JUDY covered in DEADLINE.https://deadline.com/2019/01/saint-judy-trailer-first-look-biopic-judy-wood-common-michelle-monaghan-alfred-molina-alfre-woodard-1202540243/ 
1/17/19 SAINT JUDY due to be released in theaters March 1st! Make sure the films screens in your neighborhood by clicking the link below and requesting a screening! https://www.facebook.com/photo.php?fbid=10216115052981937&set=a.1088250299334&type=3&theater 
10/15/18 SURVIVING HOME-LA PREMIERE AT DTLA FILM FESTIVAL! Saturday October 20th at 3PM Surviving Home has it's LA premiere at the DTLA Film Festival showing at the Regal Cinemas next to Staples Center. James will join the Q&A Panel for the film afterwards. Tickets are still available. 
10/5/18 ANOTHER POSITIVE REVIEW FOR SAINT JUDY from LA Beat https://thelosangelesbeat.com/2018/10/movie-review-saint-judy-at-the-2018-los-angeles-film-festival/ 
10/2/18 SAINT JUDY REVIEWED BY HOLLYWOOD REPORTER! https://www.hollywoodreporter.com/review/saint-judy-review-1148526 
9/21/18 SAINT JUDY voted as a "Film to See" this year by Indiewire! 
https://www.indiewire.com/2018/09/los-angeles-film-festival-2018-movies-to-see-1202005511/ 
9/19/18 SAINT JUDY-LA Film Festival Interview with director Sean Hanish and the true-life subject of the film, JUDY WOOD! https://youtu.be/SiLTgov_SNc 
9/17/18 SAINT JUDY IN THE MILL VALLEY FILM FESTIVAL! Saint Judy will screen October 13th and 14th at the Mill Valley Film Festival in San Rafael California. https://www.facebook.com/MillValleyFilmFestival/?fref=mentions&__xts__[0]=68.ARDvJPRqX1ARc60EUQjOA40yGH-RioAHtkjGo6lztuFsR7K-kgtkx27FYBJn8mDrWwl87hMSSjqfPo1XPoM0GDXf_iU5KY66oY8GfAkY3G7yK-67Qlzd5R-Oic9SNGRVinHoDJ9N34jFJ1pfKjHKbDDlANJKP6r9Vzkn2ATYprelupUh1yvi16U&__tn__=K-R 
9/12/18 SURVIVING HOME accepted into the DTLA (Downtown LA)Film Festival October 17-21st! Screening details to follow. 
8/24/18 SAINT JUDY NOMINATIONS!-The Raindance Film Festival has nominated Saint Judy for Best International Film as well as Best Performance for Michelle Monaghan! Link to purchase tickets http://festival.raindance.org/films/saint-judy 
8/22/18 SAINT JUDY IN LONDON! Saint Judy has been accepted into the Raindance Film Festival in London and will have it's European Premiere October 1st and 3rd in Picadilly! The official ink will be included shortly... 
8/21/18 SAINT JUDY will be shown at the Arclight Theaters in Culver City September 22nd at 6:45PM You can get your tickets through LA Film Festival. Here is the link to buy tickets to the screening! https://tickets.lafilmfestival.com/Online/default.asp?BOparam::WScontent::loadArticle::permalink=saintjudy&BOparam::WScontent::loadArticle::context_id= 
8/21/18 GOOD NEWS! Saint Judy has distribution! BAD NEWS!-All tracks from Saint Judy have been removed pending the deal. The album itself will be available on al platforms very soon! 
7-31-18 SAINT JUDY gets its World Premiere in the LA Film Festival! It will screen at the end of September. Screening details will follow... 
6-27-18 James just finished orchestrations for longtime friend and composer Bill Brown's new album entitled Dreamstate! 
4-10-18 SURVIVING HOME Wins the Audience Award for best film at the Vail Film Festival! 
4-7-18 SURVIVING HOME screens on Saturday April 7th and Sunday the 8th at the Vail Film Festival. Q+A to follow after both screenings. Surviving Home is an excellent documentary about the struggles of veterans of wars from WWII to the present day. I am proud to have written the score for this film! 
Vail Film Festival-Surviving Home 
2-5-18 James will be conducting Howard Hanson's Concerto for Organ, Harp and Strings as well as Anthony Rispo's Suite for Organ and Strings for the Friends of Music Concert February 17th at 7:30PM at Pasadena Presbyterian Church. Timothy Howard will perform on the Church organ. 
1-15-18 SAINT JUDY Tracks Posted! 
1-15-18 SURVIVING HOME has been selected for the Sedona International Film Festival! 
12-18-17 Saint Judy recording session completed. Mixing in January! 
11-11-17 Surviving Home Review http://www.wearemoviegeeks.com/2017/11/sliff-2017-review-surviving-home/ 
10-3-17 SURVIVING HOME, the documentary about veterans adjusting to life back home,  has been accepted into the St Louis International Film Festival and will screen on Veterans Day! 
9-20-17 Surviving Home and Acts of Violence Tracks posted to website! 
8-15-17 Soundtrack to ACTS OF VIOLENCE starring Bruce Willis and Cole Hauser completed! 
NEW Interview by Berklee College of Music Alum Tim Hare http://www.berklee-blogs.com/2017/07/connections-confidence-and-kindness-learning-the-film-composition-industry-from-james-sale/ 
5-19-17 James has conducted 5 sessions for Transformers: The Last Knight for composer Steve Jablonsky.